This Neighbor to Neighbor (N2N) topic includes a wide range of support activities for our Surrey Downs community.  We need people to contribute to a range of activities including:
Emergency preparation: know your neighbors, where is the water, how to turn off the gas, how to respond or get help.
I have added some information from the Map Your Neighborhood program. The directory now has a ZONE MAP (see below) and we are looking for ZONE CAPTAINS to start mapping our neighborhood.
Community caring: for those less fortunate or at risk.
SDCC have started a register; if you know someone who may require a little more help with life, then let us know and we will keep track.
Welcome new arrivals: say hello to new people in Surrey Downs.
Wouldn't it be nice if someone welcomed you to your new home? And told them about this web site 🙂
Neighbor directory: we keep a list based on public records and now the 2016 Directory is published, we will work towards an online version.
Let us know if you would like to take part, send email to surreydownscc@gmail.com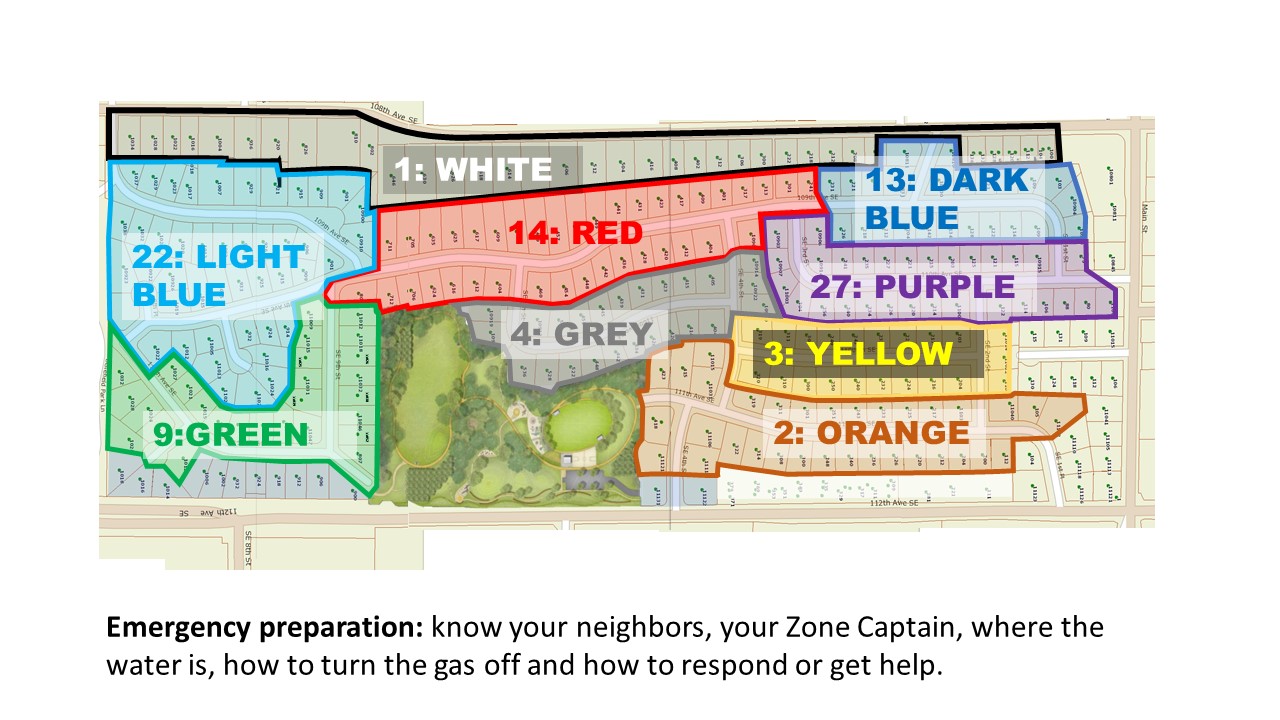 ZONE
CAPTAIN
ZONE
CAPTAIN
DARK BLUE
Scott Lampe
212 109th AVE SE
LIGHT BLUE
PURPLE
David Slight
227 110th AVE SE
RED
 Ken Rosenow
401 109th AVE SE
YELLOW
GREEN
 Steve Hall
11031 SE 9th ST
ORANGE
GREY
NB: currently in discussion about the WHITE zone along 108th AVE